All fans of computer games probably know about the Far Cry shooter series. The first part of the game was released back in 2004 and has since firmly established itself in the popularity ratings among shooter fans. It has everything: beautiful graphics, wild adventures, a lot of dangerous enemies and animals, a large selection of weapons, the ability to drive vehicles, and so on.
Far Cry 6 continues the best traditions of the series and takes players to a fictional world full of violence, dangers, and even fun adventures. The plot of the new part is set on the long-forgotten island of Yara in the tropics. The main character of the game does not like all the lawlessness that is happening in his homeland and has only one dream, which is to escape to the USA.
But in order to do this, he needs to solve a lot of problems with a machine gun in his hands. The character has to join the anti-government rebels who want to overthrow the local ruler and establish peace and order on the island.
System Requirements
Since the game was released in 2021, you need a pretty good PC to run it. It has the following system requirements:
A video card of at least 4 GB, such as, for example, NVIDIA GeForce GTX 960. But if you have something like AMD RX Mega 64, that is even better.
Intel Core i5-4460 or AMD Risen 3 1200 processor with 3 GHz or faster.
With 8 GB of RAM, it is recommended to use dual-channel mode. But it is better to have 16 GB.
Your computer also needs about 60 GB of free space to install the game, the latest DirectX 12, and a 64-bit operating system. You can also play Far Cry 6 on PlayStation 4 and 5, Xbox One, Series X, and Series S.
Main Features of the Game
The game has a huge world: the island of Yara in Far Cry 6 is two times larger than it was in the 5th part. This means that players have a lot of room to play and a wide variety of interesting locations to visit. The game offers an extensive selection of weapons to choose from pistols, grenades, machine guns, flamethrowers, and even tanks and rocket guns.
The computer version of the game features ray tracing, so everything in it looks very nice, but it requires a powerful graphics card. The entire map is divided into regions controlled by the dictator's deputies. Players have to go through the storyline by gradually capturing new parts of the map and teaching the local kings to be respectful.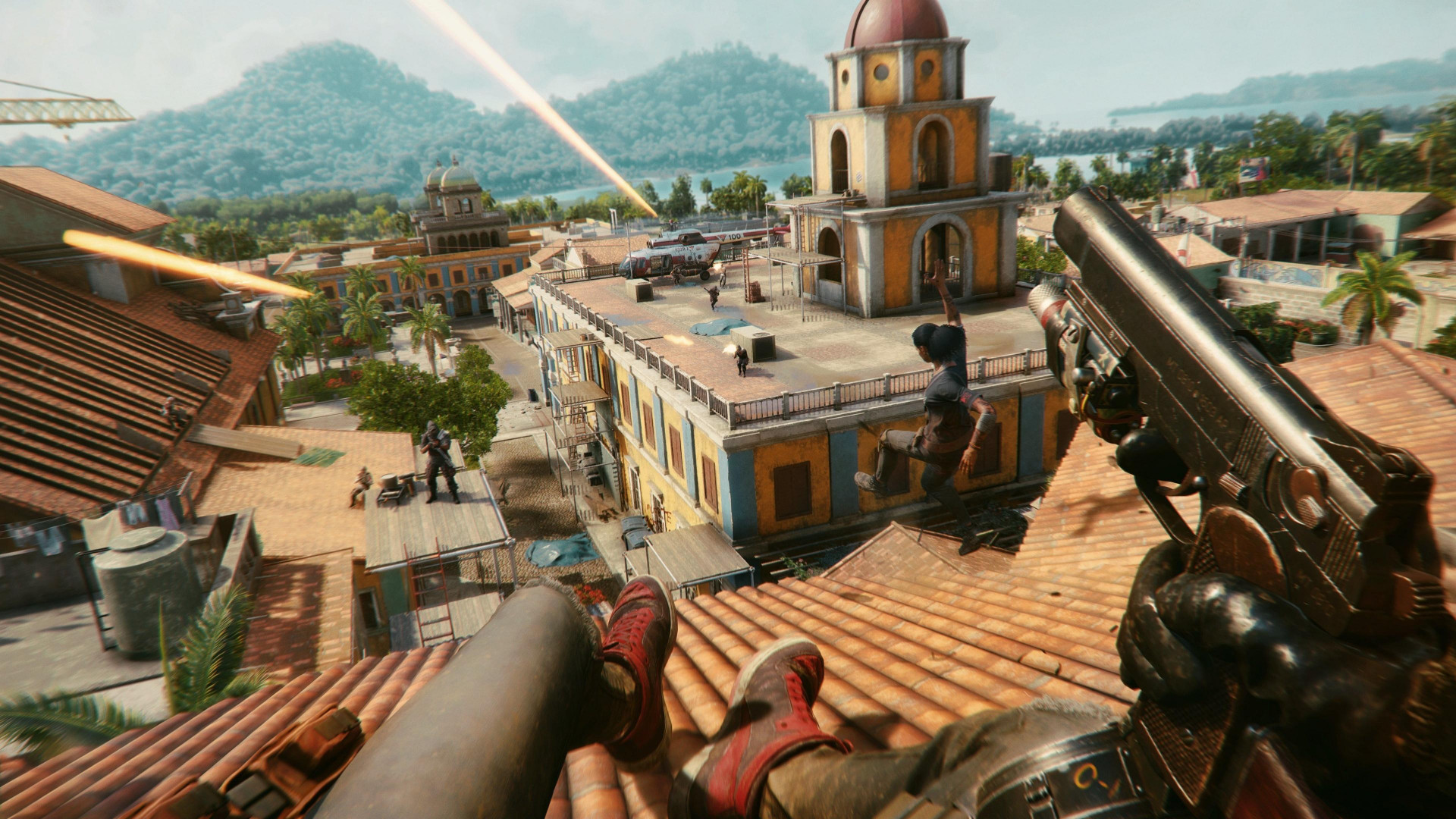 You can get a car anywhere on the map. This is not very realistic but allows you to quickly move around the locations. Otherwise, it would be very inconvenient to walk around the huge island. In addition to cars, the game has tanks, helicopters, and boats that you can drive. However, you will not be able to call them as easily as a taxi. You will have to fight for such transport instead.
The game has no limits on the maximum number of weapons to carry, so players can carry a ton of different equipment with them. Although the weapons are not too diverse, they are enough to easily destroy enemies. If you try, you can go through the entire storyline with one machine gun in your hands. Just make sure you have enough ammo.
Advantages and Disadvantages
The Far Cry series has always attracted a lot of attention, so it is not surprising that the new part 6 has not gone unnoticed either. Its strengths include the following:
The game has a very pleasant atmosphere, it is beautifully drawn, and its graphics are pleasing to the eye.
Players have animal companions that hardly help them but make for an interesting and fun atmosphere.
The story missions have an interesting and exciting visual design.
The disadvantages of the new part are its trivial plot about a bad dictator, huge streams of enemies, just like in Doom, and a rather monotonous clearing of outposts. In general, this is a great game that will help everyone have fun.